Having volunteered with more than 50 Zennials (Gen-Z & end-Y) in Europe for almost a year and working for an HR consultancy company as a talent partner for tech startups, I have had the chance to observe the new generation in business life. Therefore, I would like to share my impressions on Gen Z, as a Gen Z talent partner myself.

As I see within our generation, we know what we can achieve and the value we add to companies. However, if we feel our capability is not used effectively, we hesitate less to act compared to previous generations. 
 
We, as Gen Z, attach great importance to working in a place that suits our values, even though salary and benefits may be a greater motivation for other generations.  


So, how is the situation in the Tech Sector?   
In a globalized and flexible sector such as technology, the diversity of opportunities is quite high.   
 
As Gen Z employees, we can work remotely in foreign companies to get higher salaries or, as we have often witnessed recently, we can jump on the "relocation" train after gaining experience in Turkey. 

In other words, due to the nature of the sector, we feel confident in making decisions about our own future. In such a fast-changing age, we are familiar with global culture as we are internet natives.  
We prioritize travelling and seeing the world. We are interested in what people do all around the globe. It is not how much money we make but how much experience we collect and grow as professionals. We're looking for ways to build a future for ourselves in a well-rounded manner – just like our globe.    
Now, let's see if the situation is the same for everyone within this age group, without restriction to the technology sector.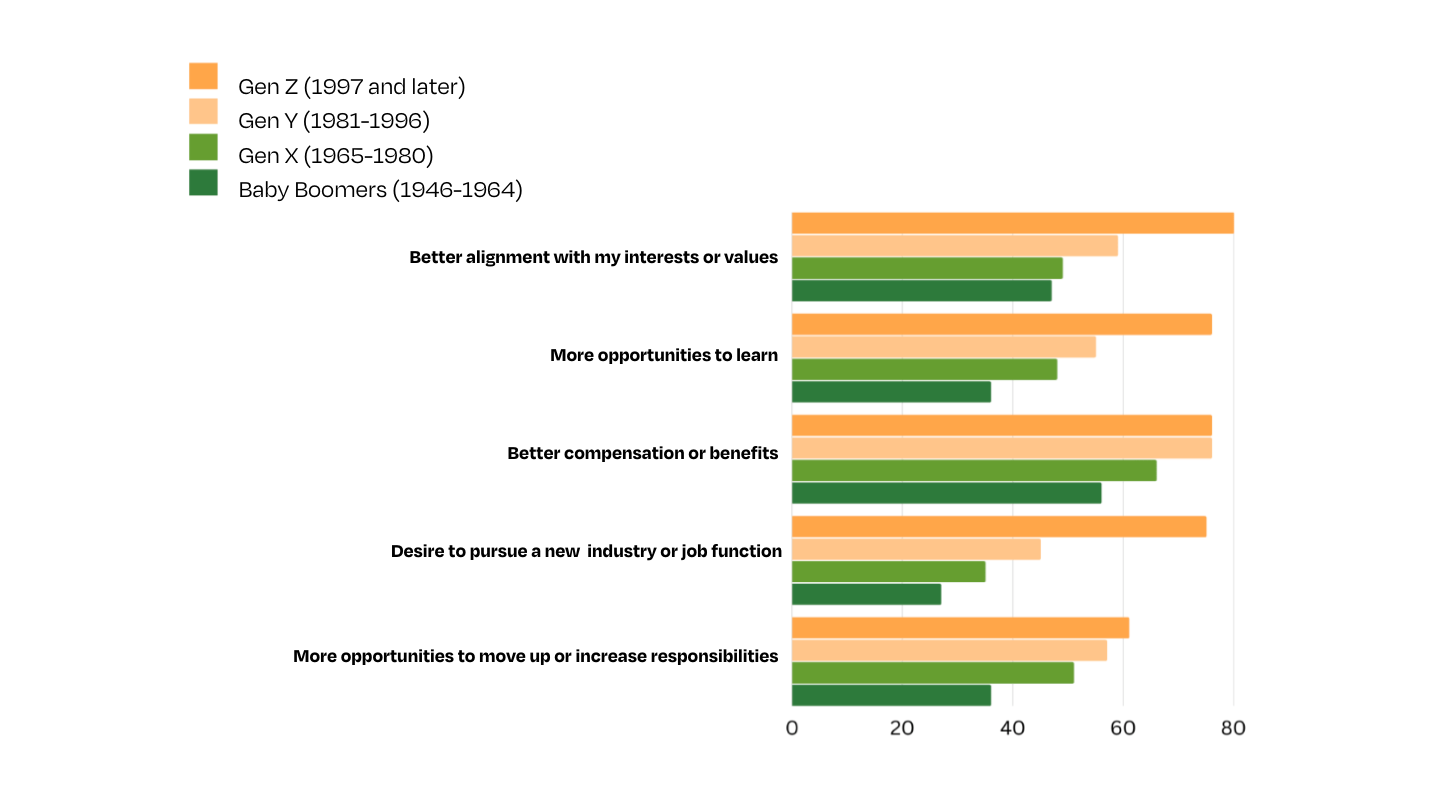 The survey was conducted by the LinkedIn Market Research team between December 2021 and January 2022. The table reflects the responses of 21,637 participants who plan to quit their jobs within 6 months and shows the distribution of reasons for changing jobs by generation.   

Surprisingly, according to LinkedIn's research, money is not the most important factor that connects employees to companies.  
 
Is Gen Z leaving their salaries or their Companies?  
As indicated in the survey, Gen Z is the most dynamic generation, and their most important priority is the company culture - that they think fits them. Learning and growth opportunities are the second most prioritized. Contrary to common belief, salary and benefits are in third place in the survey.  What exactly does that mean? The new generation may not consider compensation a priority if they find a fit in the company culture. It is more about the excitement they feel they can achieve within the right company. The new generation is prone to take risks for the sake of this belief.   

Additionally, based on Melon - Endeavor Salary and Benefits Trends Report results, Gen Y and Gen Z frequently change jobs even when the job change does not bring a noteworthy increase in their purchasing power.  This statement raises the question: if a person is paid decently and is working for a company with learning and growth opportunities, would that person consider changing jobs for a better salary? I invite leaders to consider the answer to this question.

While Gen Z and Gen Y are so focused on learning, developing themselves, and creating value in their work, I strongly believe that the development of employees should be more at the forefront than ever in the agendas of companies and leaders.  
We surely know that salaries should protect employees' quality of life. Once it's achieved, the leaders should prioritize creating a company culture in which employees can make an impact, feel their ideas are valued, and get continuous learning and development support. 
What do candidates expect from Tech Companies? What do companies offer to their employees?  How to create a company culture where employee development is a priority? What role do leaders play in this process?  

You can contact us at [email protected] to discuss the answers to all these questions and more.